Catburglar – How to Design a Children's Book Cover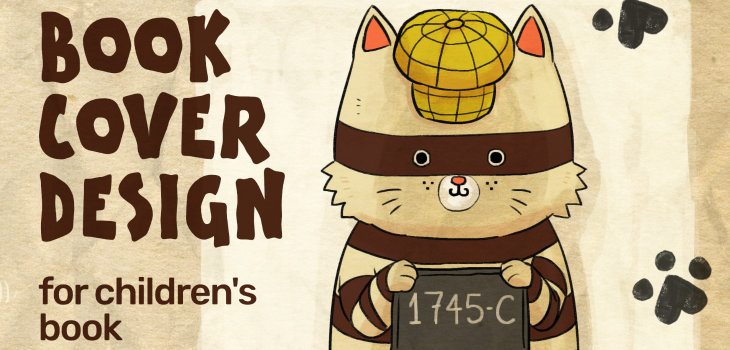 I want to share my process of designing a children's book cover so I'll be giving an overview of the entire process from generating concept ideas to all the way to laying out the cover design for a print file. The case study for this process is a children's book called The Catburglar. Which is a book I wrote and illustrated myself. Part of the reason for working on this project was that I wanted to have complete creative freedom in making a cute little book that probably otherwise has a too small of an audience that bigger publishers would probably not be very interested in publishing it.
Generating ideas for children's book cover design
Before designing anything, I always start with just looking for inspiration by collecting images that evoke the style or mood of what I want to make. Basically I just make a mood board for myself and since I'm the writer for this book I already know what kind of story I have. When I've decided on a general direction I want to, I start generating ideas for the cover layout. The method I often use for generating ideas for design work as well as art and illustrations is called iterative drawing which is based on this video:
Although this video is specifically about improving drawing skills, I've applied the same ideas for design work as well. To quickly summarize, making iterations means that in order to find the best design solution I create a lot of iterations of the same idea. Basically I create one version, and then create another version where I change one thing to see all kinds of different possiblities that can come out of the process.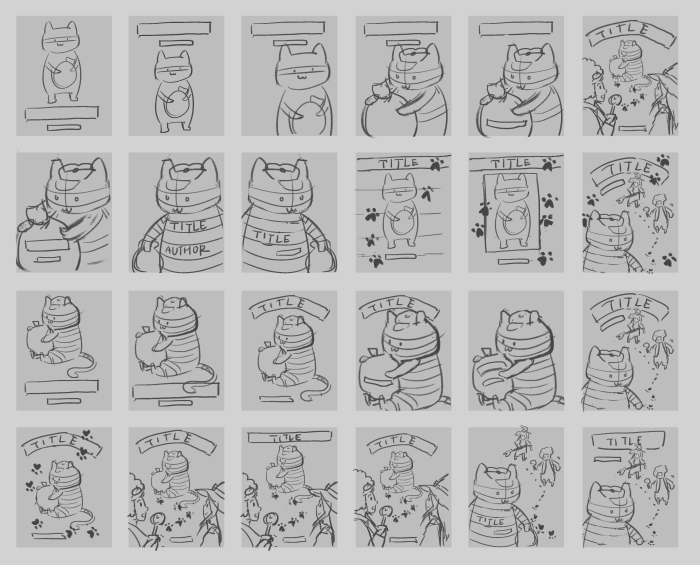 For my own book cover I started out by generating 24 different layout ideas. I then narrowed down my sketches two only four different concepts. If this had been client work I would only send the four best options to the client because I have already determined which ones are likely to be the best solutions and too many choices is overwhelming.

Working on the sketch
For stylistic reasons that also are based on my story I decided to create a cover design inspired by old wanted posters. And I'm going to be showing my main character on the cover. At this stage I also decide decide what kind of typography to use.

I'm creating custom typography for the title and author name. First I'll just sketch the lettering and then I'll vectorize it to make it cleaner. I'm doing the same thing for the typography that I'm going to use for the author name. Once I have finished vectorizing the typography and I have sketched the illustration I start laying out the covers. I'm using Serif PagePlus X9 for that. You can do the same thing in InDesign illustrator Affinity designer scribus or whatever design software you like to use. From here on I alternate between design software I use Clip Studio Paint Pro to do all the illustrations. The image below is the vectorized version of the typography sketch above:

Coloring cover illustration
I'm drawing other characters (aside from the cat) that appear in the story and use them on the back cover along with the blurb. The back cover is only important for the print version of this book. I typically design cover layouts by doing the back cover on the front cover together. Obviously the front cover is the most important part of this design so I always make sure that the front cover works well.
Here's the finish layout of the back and front cover and the front cover on its own.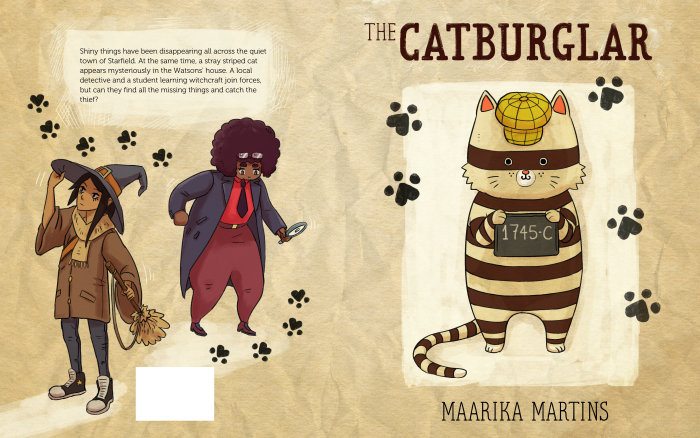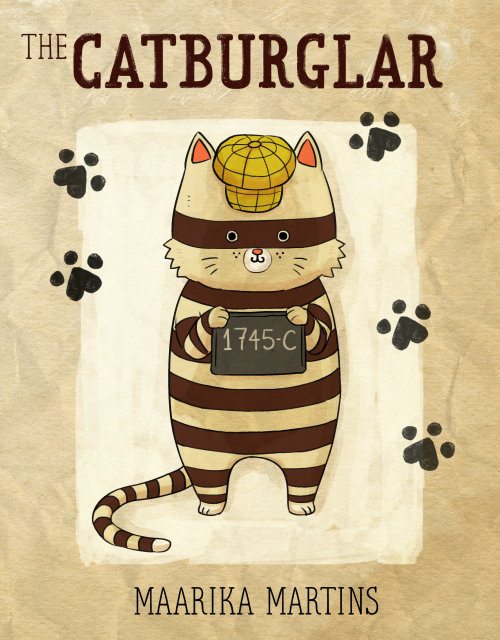 If you want your own custom Illustrated children's book cover then feel free to contact me.