Tools and Resources I can't live without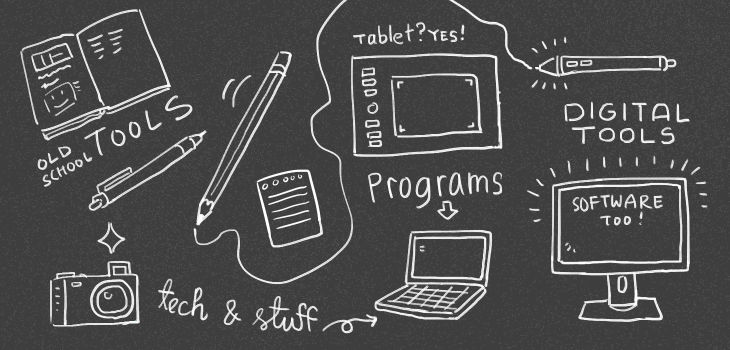 Here's the list of all the software, hardware and various tools I use in my illustration and graphic design workflow. I'll update this if I have something useful to add (last updated: January 11, 2019).
NOTE: if you email me asking me to add your product/service/website to this list then I will immediately mark your email as spam. Do not send me unsolicited offers. This is a legit list of tools that I use and the reason the product you want to promote isn't here is because I don't use it.
Drawing Programs and Design Software
Clip Studio Paint Pro My favorite drawing program by far. I make almost all my art with it. It's not free but it's affordable and it's many times worth the price, plus they have regular sales so you can get it half off if you want to wait. There's a free version you can try out.
Affinity Designer Great for creating vector graphics, good alternative for Illustrator. Also affordable. I use it for comic lettering.
Affinity Photo Affordable alternative for Photoshop.
Affinity Publisher Affordable and powerful alternative for InDesign. I do all my zine and book layouts and print files with it. All of Affinity programs work together like magic. Highly recommended.
Inkscape Open source vector graphics editor. I mainly use it for the bitmap tracing feature.
Kuadro A small free app for organizing reference images.
Foxit Reader A free PDF viewer, honestly I prefer this to Acrobat Reader because it's faster.
Adobe Acrobat Reader I use this mostly for previewing print files.
Scribus Open source DTP/layout software. A bit unintuitive but has pretty good features. I haven't used it since Affinity Publisher came out.
Silhouette Studio I use it with my Silhouette Portrait cutter to make stickers
Pixlr Good for editing pics on your phone. I like the filter effects.
More Resources for Art and Comics: Brushes, Online Art Tools, Tutorials etc
Audio, Video and Other Media
Web Tools and Services
Hardware – My Tech Setup
Computer: Asus Zen AIO ZN242GD

RAM: 16 GB

SSD 500 GB + 1 TB HDD

NVIDIA GeForce GTX 1050 Ti (4 GB)
Intel Core i7-8750H @ 2.20 GHz

Dell U2415 monitor
Wacom Intuos Pro S
R-GO HE Vertical Mouse
Apple Keyboard (Full)
WD 1 TB External HDD
Samsung 500 GB T3 External SSD
Sony a5000 with kit lens. The camera I use for recording videos or taking pretty pics.
Various Tools That Improve My Life
Notepad You know that little piece of software Microsoft made all those years ago. I use it daily.
SunsetScreen Makes the screen red at night to relieve eye strain.
ProcrastiTracker A free program that tracks which programs you use so you can have a sobering picture of your time management (Windows only).
Leechblock Browser add-on that blocks specific websites at specific times so you can't go there to waste your time.
Rainlendar Just a little calendar I use on desktop.
Hourglass A simple timer app for desktop (Windows only).
Analogue Tools I Use (Stationery Basically)
A custom-made hardcover A5 planner (made it myself)
Ball point pens
Stabilo Fine Point 0.4 pens they're nice and colorful
Leuchtturm1917 Harcover Pocket Notebook A small notebook for… taking notes
Random sketchbooks, sticky-notes, pens etc for note-taking, scribbling and doodles
Save
Save
Save
Save
Save
Save
Save
Save
Save
Save